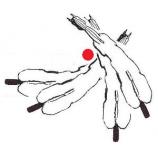 The turn on the forehand is a misprized exercise. As it is the first exercise many riders meet when they first start riding, I think it has got a reputation as a beginner's exercise so most riders won't ride it as that may make them look as a beginner. I, however, love it, just because it is so plain and easy to do, for beginners and for the horses.
In this article I will not talk about the rider's education, only about the horse.
You can use the exercise in many levels of the horse's education, and you put different demands on the result depending on the situation.
What everyone knows about the forehand turn is that the inner foreleg shall walk on place, up and down. There is less discussion about what the other ... Read more